Pro Tips for Working with a Color Consultants
If you're looking to work with a color consultant on a home project or if you've got an upcoming appointment then it's important that you're prepared!  Being prepared is the best way to ensure you get the most out of
your consultation and narrow down your options.  There are many different kinds of consultants that offer a variety of services but today's tips will help you prepare to work with a paint color consultant.  As always, these color consultant tips can be adapted to work with a variety of projects.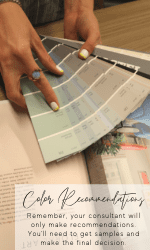 Tips to Prepare for Your Color Consultant
1.Have Your Swatches Ready
This is our most simple tip for preparing for a color consultation but it's worth mentioning.  You should have your swatches, ideas, pictures, and thoughts ready to share with your color consultant at your appointment.  Sometimes clients want to know what the consultant thinks before they share what they're thinking but this is usually time wasted.  The consultant's opinions and preferences matter far less than your own.  The first step with a consultation is to do a discovery dive into what your vision is.  This is the first time your color consultant has been on site but you've been thinking about this for quite some time.  Keep your appointment on track by having your inspirational content and opinions ready to share.
2. Be Prepared to Make Eliminations
There are hundreds of options when it comes to paint colors so having a professional color consultant can really help narrow the scope.  Analysis paralysis is a very real issue for many homeowners.  We see clients all of the time with fifteen shades of the same blue painted on their walls, ready to throw in the towel.  If you're wading through color swatches then there's good news and bad news.  The bad news is, you need to be ready to make some tough decisions at your consultation.  The good news is, there are no perfect paint colors.  You will have countless color options and any one of them would look great in your space. It's not about finding the "perfect" one.  It's about finding the one you like so we recommend that you look at each swatch two at a time.  Compare the two and go with the one you just feel better about.  Then compare it with the next until you have your final color champion!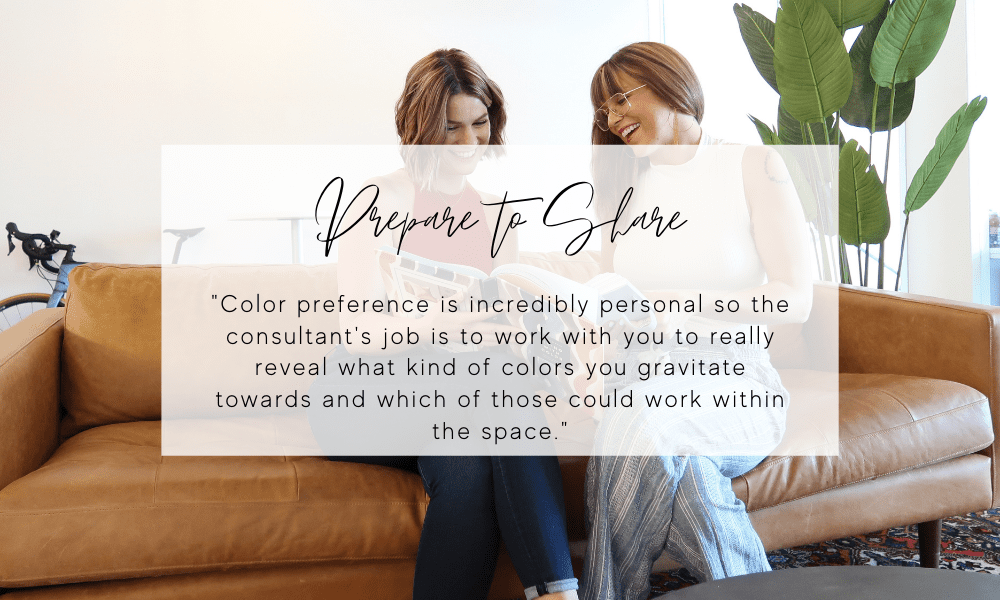 3. Come Ready to Share Your Opinion
Some clients have a lot of doubt in their ability to choose good paint colors.  Whether they're color blind or believe they just have bad taste, this can be a real problem at your color consultation.  Color consultants will not just give you a paint color.  Color preference is incredibly personal so the consultant's job is to work with you to really reveal what kind of colors you gravitate towards and which of those could work within the space.  If you are shy or uncomfortable with voicing your opinions then it's going to be impossible for your consultant to do their job.  Remember; they don't have to live with it, you do.  They just want you to be happy. 

4. Be A Team Player
Yes, you've got to work directly with your color consultant but that's not what we're talking about.  In many cases, there is more than one person involved with the color making process.  This can be a spouse, a friend, or a family member.  Oftentimes, one partner "cares" about the color more than the other.  When choosing paint colors with someone else it's very important that you work as a team.  That means seeking out and hearing one another's opinion, being willing to make compromises, and keeping each other in the loop.  Trust us; the last thing you want to do is get your entire house painted only for your partner, who didn't care, to hate the final look.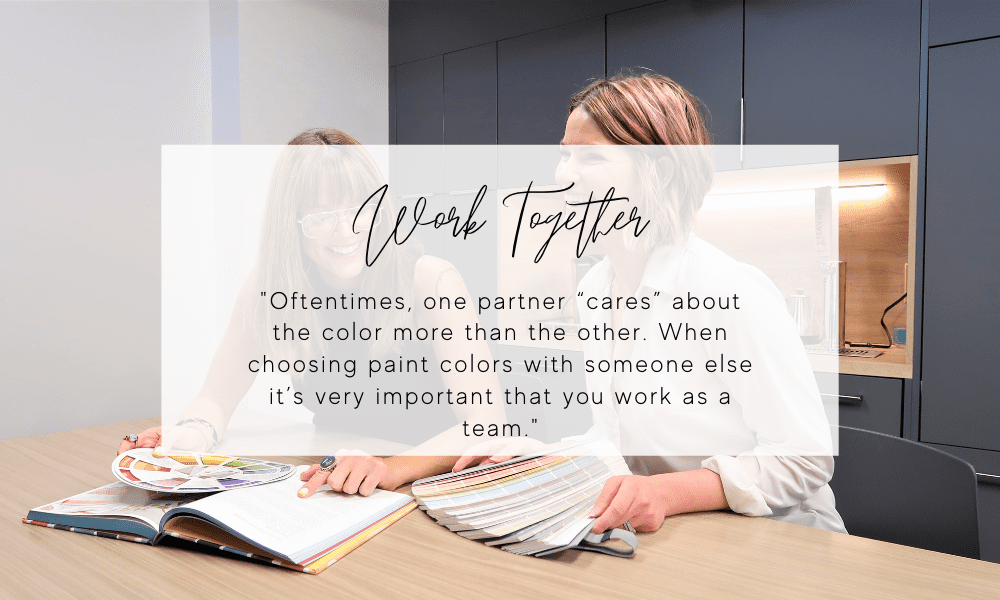 5. It's Okay to Get Validation
Sometimes, it's not color recommendations that you're looking for.  A lot of the clients we meet with are pretty far along in the process.  Many of them even have colors, with samples, that they really like.  What these clients are really looking for is validation.  They want to make sure that they've selected "good" colors.  This can mean making sure that the colors complement each other or that the color isn't too bright or dark, out of trend.  Basically, they want to just hear confirmation from a professional that they aren't making a huge mistake.  You might think this makes them the easiest clients to work with and they are fantastic! It's great to meet with a client who really knows what they want but it can be difficult to get them to believe you're being honest with positive feedback.   If this is where you are at within the color selection process then trust that your color consultant will always do their best to give you honest and direct feedback.  Their goal is for you to love your colors so their candor is key.

Tips for Making the Most of Your Color Consultation

Your color consultant is there to assist and help you, not to choose your paint colors for you so it's critical that you are engaged and honest.  Consider how far along within the color selection process you are and plan accordingly.  If you are just getting started then consider doing some research before you meet with a consultant.  Find some inspiration and save it so you can easily access it for your color consultant or drive around your neighborhood and take pictures.  For those of you further along, think about what's holding you back and make sure to address it before your appointment.  Are you being collaborative with the selection?  Are you being honest about your likes and dislikes?  What are you looking for from this consultation?  These are all great questions to ask yourself to make the most of your color consultation. We hope this has helped and as always; test your paint colors and follow us online for more color suggestions and content!