What Defines the Modern Farmhouse Look?
The modern farmhouse look as seen a huge surge in popularity over the last couple of years and we're digging into how to achieve the modern farmhouse look.  Today, we'll be specifically looking at getting the modern farmhouse look on the exterior of your home.  So, what defines the modern farmhouse style? 
Modern farmhouse is defined by its colors, textures, and accessories.  These homes often feature gabled roofs that are black or gray and can often have standing seam metal roofs rather than standard shingles.  This style focuses on simple colors like black and white with natural elements such as stained wood brought in for variation and warmth.  You'll often see these homes with white brick or board and batten siding and they usually feature large windows and industrial fixtures. 
How Does Modern Farmhouse Differ from Farmhouse?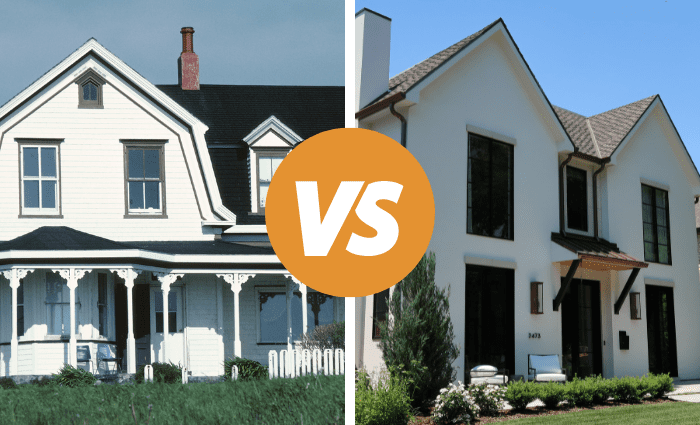 The farmhouse style is much more casual and relaxed compared to the updated look and feel of the modern farmhouse style.  Farmhouses can come in a variety of colors and they don't adhere to the same rules as their modern counterparts.  Modern farmhouses focus on clean, sleek lines for a uniquely fresh take on a country style.  
How to Get the Modern Farmhouse Aesthetic?
If your home is not currently built in the style of modern farmhouse fear not, you can still steal ideas from this style and give your home the feel of a modern farmhouse through a variety of ways.
Best Paint Colors for Modern Farmhouse Exterior
The color of modern farmhouses is quite specific so it's a great place to start.  Most modern farmhouses tend to be heavily white with a focus on creating height and an open feeling.  Black is often used as an accent color on shutters or a front door and natural-looking stains are used on new wood to add texture and warmth.  If you've ever tried to pick out a white paint then you know that there are a surprising and overwhelming number of options available.  We like to keep things simple here so we've got our top three whites for the modern farmhouse look.
Alabaster SW 7008. 
At the very top of our list, we have Alabaster from Sherwin Williams.  This white is perfect for achieving the modern farmhouse look because it's crisp and bright with just a hint of warmth.  This helps the house from looking too cold and brings a nice vibrancy to the exterior.
Pure White SW 7005. 
Some clients really like that sharp contrast between a true, cool white and black and if that's you then you might consider Pure White for your project.  Pure White is the whitest white from Sherwin Williams' exterior color options so it's great if you're looking for a truly bright white.  We do recommend that if you have cooler-toned houses on either side of you or if your home is north facing that this may not be the best option.  In those instances, something with a little more warmth might be best.
Westhighland White SW 7566. 
This white is the creamiest and warmest of the options listed here but it still comes across as a true white when applied to a large surface.  Although it isn't selected as often as Pure White or Alabaster it's a great choice if you're wanting something a little softer than the two other colors mentioned.
If these whites aren't quite right then be sure to test out some additional options and find what works best for you and your home.  The key with the modern farmhouse look is to choose a white that will be bright and fresh rather than something more antiqued but as we always say, design rules were meant to be broken!
Color Placement for Modern Farmhouses
Once you've selected your white paint color, you've got to determine the best color placement and if you'll be using an accent color.  The second most common color on a house like this is black but oftentimes this doesn't appear in the form of paint.  For true modern farmhouses, black is used in the windows themselves, hardware like outdoor lighting, and roof color.  This means homeowners aren't usually using paint to achieve this look but black paint can be a very helpful tool.  If you're not sold on an all-white house, consider painting the fascia just at your roofline (highest story only) or your shutters in something like Tricorn Black SW 6258 or Iron Ore SW 7069.  This can help achieve the modern farmhouse look especially if you don't have some of the traditional features like black windows.  
That being said, we do recommend you be careful with your use of black.  Doing additional trim, like the trim around your windows, can distract from the goal of creating a large plane of color by breaking up the white. In this case, less is more.
Best Black for Modern Farmhouses
Tricorn Black is a classic, inky black that can help you achieve a nice sharp contrast and it pairs very well with all of the above-mentioned whites.  This is what we recommend the most often when a client is looking for a very true black.  In contrast, Iron Ore is what we refer to as a modern black or soft black.  Iron Ore has more gray added to it to tone it down a bit so it's not quite as piercing as Tricorn Black.  This can help create a softer, less harsh effect and it also pairs very well with the recommended white options.
Modern Farmhouse Accessories and Finishes
Once you've locked in your colors you've got to remember that the devil is in the details.  Accessories, hardware, and specific finishes can really help transform your home and give you that modern farmhouse look and feel.  For bigger projects like replacing your windows or roof consider going back in with a black roof or black windows.  This is an iconic feature of the modern farmhouse style so if it suits your home and it's to redo your windows or roof then this is the best way to see a huge change.  
For more budget-friendly options hire a local carpenter to add on some decorative wood elements that can be stained or simply change out your exterior light fixtures for ones with an industrial feel.  Don't forget about those house numbers!  Amp up the modernness with sleek and cool new house numbers for an affordable and quick swap.
Achieving the Modern Farmhouse Look on Your Home
Whether your home was designed in the modern farmhouse style or you are interested in bringing in an element or two, this style is fresh and fun.  We absolutely love how clean and youthful this style feels and it's a relatively easy look to adopt regardless of your budget.  For more modern farmhouse inspiration check out our Pinterest boards for exteriors and interiors.