Must Try Kitchen Cabinet Colors in 2023
Painting your kitchen cabinets is one of the most affordable ways to transform and update your kitchen space. At a mere fraction of the price it costs to replace cabinets, you can get a fresh new look in just a couple of days. Kitchens are congregating spaces so clients often want them to feel inviting and energized so adding a pop of color is a great way to do this. The trend of plain white cabinets is in the past according to the 2023 color forecast so if you're looking to change things up and add a little fun to your kitchen space we hope you'll consider these amazing kitchen cabinet colors from Sherwin Williams.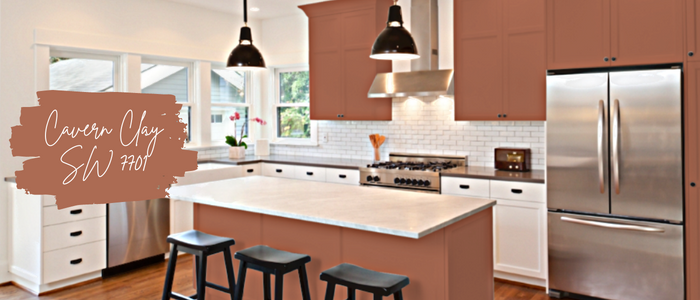 Cavern Clay 7701
2023 is the year of earth tones. We saw a bit of this in previous years with the surge in greens being used on both exteriors and interiors but these rusty clay tones are taking over 2023. Cavern Clay is a beautiful earthy red with a touch of orange and gray which help ground the color. We absolutely love this for kitchen cabinets because it's so unique and sure to be a polarizing point for people. This color pairs exceptionally well with white or warmer countertops and creates a relaxed bohemian feel.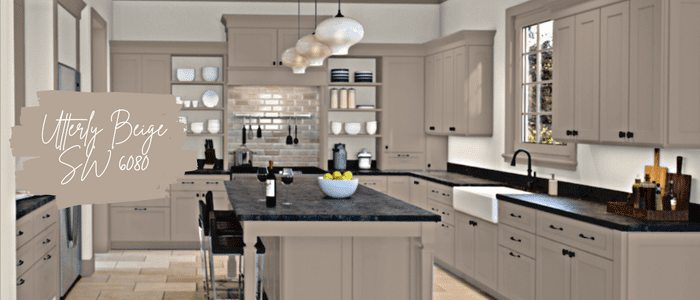 Utterly Beige 6080
If you want to try something other than white on your kitchen cabinets but a bold color doesn't suit your needs then this color might be for you! Utterly Beige may sound a little boring but we can promise you, she is stunning. This light brown leans only slightly warm so it can work with both warm and cold colors. Since it's a neutral paint color you can also use it as the main cabinet color and then create a focal point by painting your kitchen island in one of the other colors we've mentioned here. This guides the eye and can be a great way to incorporate color without it feeling overwhelming. This shade is neutral and dynamic so you can really pair it with any countertop color including white, black, brown, or green. For cooler gray countertops try one of the colors listed below.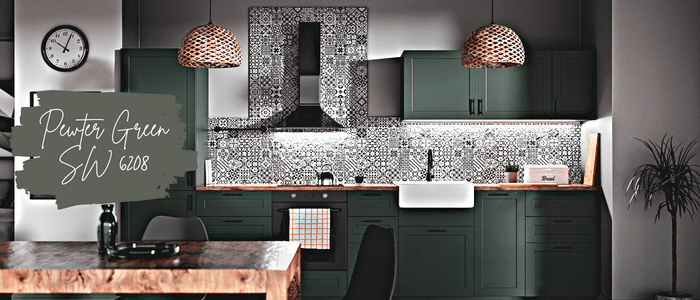 Pewter Green 6208
For all of our homeowners with those difficult brown or beige countertops have no fear, we have you covered. Most clients feel that because of their brown countertops, they're limited to browns and creams on their cabinets but there is another option. When pairing colors with tan countertops it's important to choose a cabinet color that isn't too bright or saturated because you really need to honor the earthiness of the countertops themselves and bold colors can end up feeling disconnected. Pewter Green from Sherwin Williams is the perfect cabinet paint color to pair with warmer tan countertops without clashing.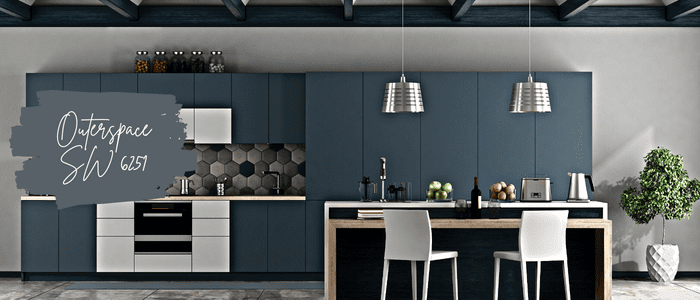 Outerspace 6251
Naval and Indigo Batik have been really popular for the last few years but if you want an upgraded version of a deep blue then look no further than Outerspace. Outerspace is a gray blue that feels sleek, crisp, and cool. This cool undertone means these colors would work well with white, gray, or black countertops. We love this color on a kitchen island paired with Utterly Beige on the main cabinets because it adds color and interest without overwhelming the space. This cabinet color is so much more interesting than traditional navy blues like Naval and will likely feel much more timeless and elegant since it is slightly muted.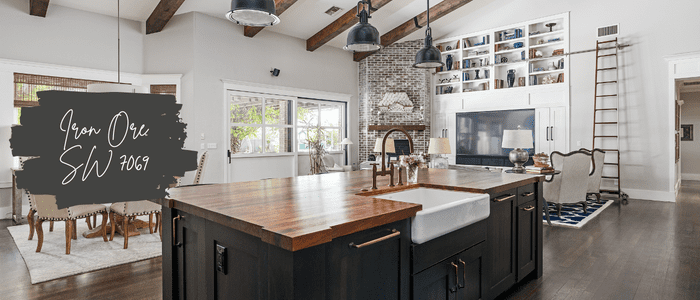 Iron Ore 7069
Another huge trend we're seeing with interiors is homeowners going to the dark side. We've had years of all-white; cabinets, trim, walls, you name it but the tide is turning. More and more, clients are looking for dark, moody, seductive colors that start a conversation and draw people in. Iron Ore is a staple Sherwin Williams color that belongs to the black color family, but with a twist. Iron Ore has a subtle gray undertone which gives it a rich, almost matte finish that feels so elevated and interesting.
If you're interested in the darker cabinet trend but want a more traditional black then we suggest Greenblack from Sherwin Williams. It has a slightly green undertone which makes it a little more interesting than a generic black which is more engaging for the eye to process. Both Iron Ore and Greenblack pair well with white countertops or pair them with black for the ultimate moody kitchen space.
Kitchen Cabinet Painting
Once you have a color or two that you like you'll want to test those out with sample cards or physical paint samples. Avoid adding texture to your cabinets and paint samples on cardboard instead. This keeps your cabinets clean and also allows you to move the sample around so you can view it under different lighting conditions.
As part of our professional color consultation packages, you can also get digital mockups to see the color in your space and get a feel for the finished product. Colorado clients in the Denver metro and Boulder areas can also get a free estimate for professional cabinet painting with our sister company Kind Home Painting Co. We have over 500 5-star reviews online and a professional color consultation is included with your project. Request a quote today!